Sports
Lucky Real Madrid end winless run in Solari's first La Liga game
Real Madrid grabbed a fortunate victory against Real Valladolid in Santiago Solari's first La Liga game in charge – their first league win in six games.
Valladolid hit the crossbar twice in the second half before a late own goal gave Madrid the lead.
Brazilian teenager Vinicius Jr cut in from the right wing and hit an effort that was going well off target until a deflection off Kiko Olivas.
And Sergio Ramos chipped in a late penalty after Karim Benzema was fouled.
European champions ride their luck
Real had only picked up one point from their previous five La Liga games, including last Sunday's 5-1 thrashing by Barcelona, a result which cost boss Julen Lopetegui his job.
Solari, the club's reserve-team coach, has taken temporary charge and led them to a 4-0 win at third division Melilla in the Copa del Rey during the week.
But this was his first big challenge – taking his ninth-placed team to a club sixth in the league and owned by former Real and Brazil striker Ronaldo.
In truth, they were unimpressive and should have lost. Their fans whistled them off at half-time and then when they came back on after the break.
Valladolid's Ruben Alcaraz hit the crossbar with a deflected shot from 25 yards, and Toni Villa did the same with a sweet strike from a similar distance.
Solari's changes prove key… just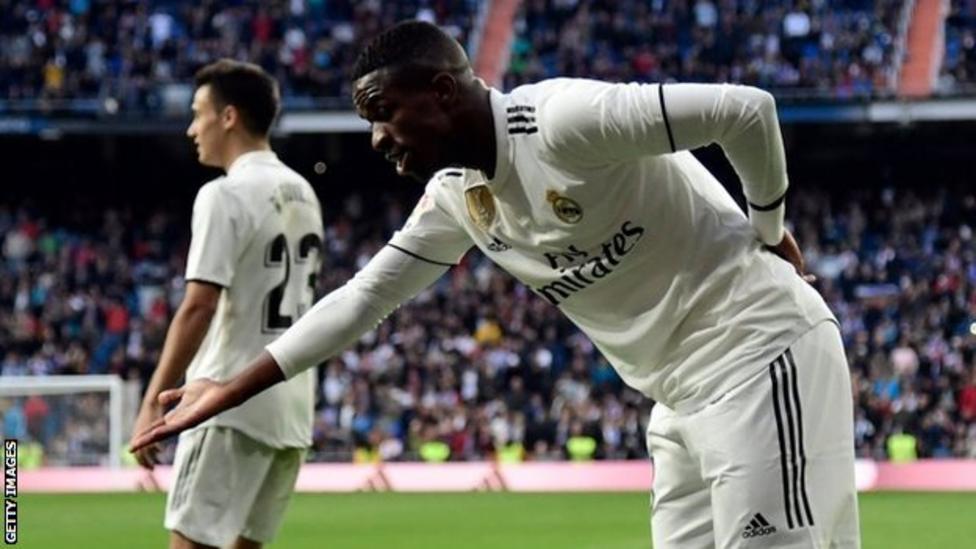 Nobody knows if Solari will end up in permanent charge – with Mauricio Pochettino the bookmakers' favourite – but the former Real winger's arrival has not brought an immediate improvement in the team's performances.
He had to play an unfamiliar backline, with three of the regular back four unavailable, and 21-year-old left-back Sergio Reguilon, on his La Liga debut, had a decent match.
In the 55th minute, Solari brought on Isco – an attacking midfielder – for defensive-minded Casemiro, and Valladolid almost took advantage of gaps at the back on several occasions.
Gareth Bale was pretty anonymous, a couple of headers aside, and was replaced by Lucas Vazquez in the second half.
But it was their other sub, Vinicius Jr, who helped change the game. The 18-year-old, a £38.7m summer signing, played 12 minutes, with Real fans keen to see more of him.
His shot led to Real's opener, and although he celebrated as if he had scored, his shot was so wayward it could have gone out for a throw-in. But after the deflection, he bowed in front of the crowd and hugged Solari, a man he made five appearances for in the reserve team this season.
Valladolid were deflated and the game was already over when Fernando Calero fouled Benzema and Ramos chipped in a cheeky Panenka penalty.
BBCSPORTS